Stay Cozy with These Four Vegan Soup Recipes
DISCLAIMER
This blog does not intend to provide diagnosis... Read More

This blog does not intend to provide diagnosis, treatment, or medical advice. Read more. The content provided on this blog is for informational purposes only. Please consult with a physician or other healthcare professional regarding any medical or health-related diagnosis or treatment options. Information on this blog should not be considered as a substitute for advice from a healthcare professional. The claims made about specific products throughout this blog are not approved to diagnose, treat, cure, or prevent disease.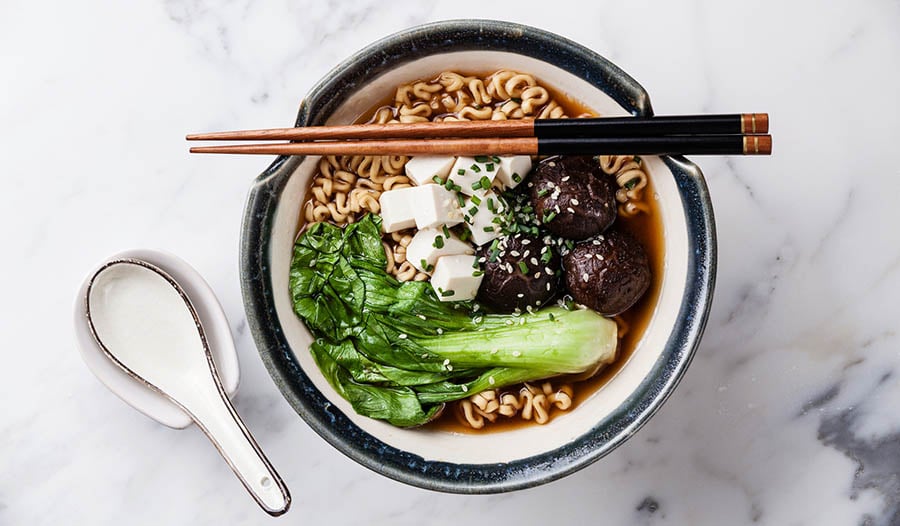 There are few foods more revitalizing than healthy vegan soup. Make these vegan soup recipes for a nutritionally packed meal.
Vegetarian Roasted Red Pepper, Tomato and Lentil Soup Recipe
This roasted red pepper, tomato and lentil soup is an updated version of the classic recipe. In this take on the old favorite, the blend of ingredients supplies heartiness and additional health benefits. Tomatoes are naturally high in vitamin C, and research has shown that the lycopene content may have male reproductive health benefits. Red peppers are high in antioxidants, and lentils supply fiber that can help the body feel full.
Ingredients:
Instructions:
Preheat oven to 350 degrees Fahrenheit.

Soak uncooked lentils in purified water during meal preparation. To ensure easy digestibility, it is OK to soak the lentils overnight.

Grease baking sheet with coconut oil or cooking spray. Place whole red peppers upright on the baking sheet and drizzle with 1 tablespoon of extra-virgin olive oil. Bake for approximately 20 minutes or until the peppers have a blistered and slightly roasted appearance. Remove from oven and allow to cool.

In a medium pot or large saucepan, heat 2 tablespoons of extra-virgin olive oil and cook chopped onion for approximately three minutes or until supple and tender.

Pour in vegetable stock or base, canned tomatoes, coconut aminos and tomato paste into the saucepan. Cook over low heat.

Chop the cooled red peppers and add to the mixture. Use a stick blender to mix all saucepan ingredients together until smooth.

Thoroughly rinse and drain the soaked lentils. Add the drained lentils to the puréed tomato and pepper mixture. Cover and cook on medium heat for 30 minutes or until the lentils are soft and tender.

Serve soup topped with chives, parsley and toasted vegan bread. Enjoy.
Vegan Corn and Coconut Milk Chowder Recipe
This corn and coconut chowder can provide a blend of comfort food and sophistication. With the freshness of the tropics and the consistency of a thick stew, vegan chowder is perfect for colder days. The unique combination may also offer important health benefits. Research has shown that sweet corn contains phytonutrients like lutein as well as other vitamins and minerals. Coconut milk offers a rich supply of iron, magnesium, potassium and manganese. Serve with vegan cornbread or breadsticks for a well-rounded meal.
Ingredients:
1 24-ounce can of coconut milk

3 cups of canned corn, rinsed

3 Tbs. extra-virgin

coconut oil

3 cups purified water

1 large sweet onion, chopped or diced

1 whole poblano pepper, seeded and chopped
Optional Toppings:
3 Tbs.

coconut flakes

1/4 corn kernels, rinsed

1/4 cup

cilantro

, chopped

3 pickled jalapenos sliced into garnish rounds
Instructions:
Pour coconut oil into a large saucepan or stockpot over medium heat. Once the oil is very warm but not scorching, add the chopped onion and sauté for about three minutes until soft.

Add 3 cups of corn and the chopped poblano. Cook for about five minutes until vegetables are tender.

Add the coconut milk and water, and then bring contents to a boil. Once boiling, reduce heat and simmer for about 20 minutes.

The vegetables should be soft and the soup pleasantly fragrant. Using a high-speed immersion blender or hand mixer, purée the soup until smooth.

Serve topped with corn kernels, cilantro, jalapenos and coconut flakes. Enjoy.
Loaded Vegan Baked Potato Soup Recipe
Loaded baked potato soup is no longer just for bacon and sour cream lovers. With this recipe, it's possible to enjoy all of the wholesome goodness of baked potato soup without the meat or dairy. Since potato naturally contains fiber, potassium and vitamin C, this dish may also help the body load up on some of the nutrients needed to get through the winter.
Ingredients:
3 Tbs.

vegetable oil

3 Tbs. extra-virgin

coconut oil

2 cups

vegetable base or stock

1 quart of almond milk or cashew milk

1/4 cup of chives

3 large russet or Yukon gold potatoes

1 large head of cauliflower

5 scallions, chopped; separate the green and white portions for this recipe

1 large leek, chopped

Organic Bac'un vegetarian bits, optional

Vegan cheddar, optional

Coconut milk for drizzling
Instructions:
Preheat oven to 400 degrees Fahrenheit.

Cover a baking sheet with aluminum foil. Coat potatoes and cauliflower in vegetable oil.

Using a wood or a metal skewer, poke five holes in each potato. Place the oil-tossed potatoes and cauliflower onto the aluminum-covered baking sheet. Roast in the oven for approximately one hour or until potatoes are tender when tested with the skewer.

Heat coconut oil in a soup pan over medium heat. Add scallion whites and leeks, and then sauté until tender. Stir in cashews and allow to simmer.

Once the potatoes and cauliflower have been cooked, add chopped cauliflower to the sauté mixture; be careful not to include any leaves or central stem. Add the almond milk or cashew milk and one half of a chopped and peeled roasted potato. With a high-speed immersion blender or a hand mixer, purée the soup until smooth. Use a fine mesh strainer to transfer the soup to a stock pot and remove any hard cashews. Leave the stockpot over medium-low heat.

Drop the rest of the potatoes directly into the stock pot using a potato ricer or food mill, and then thin the soup to a desirable consistency using the vegetable stock or base. Gently stir the soup with a large spoon, but do not use a blender or mixer at this point because the soup will become too glutinous.

Ladle and serve the soup immediately topped with chives or green onion, Bac'un vegetarian bits, vegan cheddar and optional coconut milk for drizzling. Enjoy.
Deluxe Vegan Homemade Miso Ramen Recipe
Loaded with vegetables, brown-rice noodles, ginger and healthy oils, ramen can be an uplifting meal.
Ingredients:
Instructions:
In a large stock pot, combine vegetable stock or base, sesame oil, miso and ginger powder over medium heat. Whisk until smooth. When fully combined and bubbling slightly, simmer over low heat. Cover and set aside the broth mixture for later.

Heat coconut oil in a large frying pan or skillet over medium heat. Coat the tofu cubes in organic cornstarch, and then brown on both sides in the coconut oil until toasted. Remove tofu from the skillet and set aside.

Rinse skillet and add a splash of vegetable base or stock to lightly sauté the vegetable options, such as mushrooms and spinach.

In a final pot, cook the millet and brown-rice noodles according to package directions. Do not use any seasoning packets. Once cooked, drain the noodles thoroughly.

To serve, divide the noodles evenly in four serving bowls. Top noodles with cooked tofu and vegetables. Pour the finished hot broth from step one over noodles and garnish with grated carrots, green onion and sesame seeds. Serve with sriracha chili and enjoy.