Natural Solutions for Men's Health Support
DISCLAIMER
This blog does not intend to provide diagnosis... Read More

This blog does not intend to provide diagnosis, treatment, or medical advice. Read more. The content provided on this blog is for informational purposes only. Please consult with a physician or other healthcare professional regarding any medical or health-related diagnosis or treatment options. Information on this blog should not be considered as a substitute for advice from a healthcare professional. The claims made about specific products throughout this blog are not approved to diagnose, treat, cure, or prevent disease.
In this article: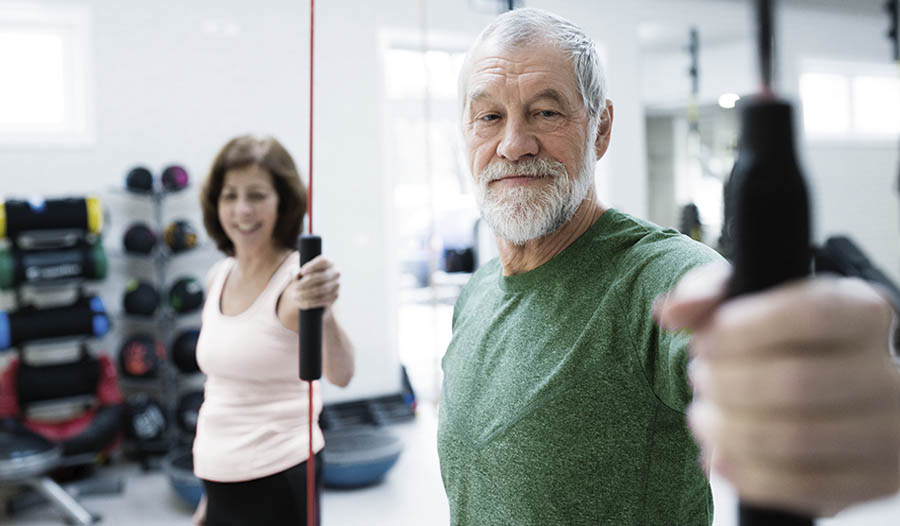 Do men experience a similar physiological event to what women experience during menopause? Often referred to as "andropause, "male menopause," or "man-opause," this even does have some superficial similarities to menopause. But, while all women go through menopause, not all men go through andropause.
What is Andropause?
Andropause reflects the appearance of signs and symptoms related to the slow, but steady reduction in the hormones testosterone and dehydroepiandrosterone in middle-aged men. Decreased testosterone naturally occurs as men age, but in andropause or its more technically correct term of "hypogonadism" levels drop below the normal range for a given age.
In case you have not seen the ads for "Low T" on TV or in press, there is a big push by suppliers of prescription testosterone preparations to get men hooked on the quick fix of testosterone therapy. Suffice it to say, that this whole area of andropause and Low T is fraught with controversy.
Symptoms of Low T in Aging Men
Do low levels of testosterone produce symptoms in middle-aged men? Absolutely. In fact, the classic symptoms have been recognized for over 70 years ago when two American physicians, Carl Heller, M.D., and Gordon Myers, M.D., showed the effectiveness of testosterone treatment for symptoms of fatigue, depression, irritability, reduced libido, erectile dysfunction, night sweats, and hot flashes.
Subsequent studies over the years have definitely found that some, but not all men, with low age-adjusted testosterone levels show these sorts of symptoms as well as improvement with testosterone therapy.
What Causes Low T?
Testosterone levels naturally decline 10% every decade after age 30 or roughly 1% per year. That is normal, what is not normal is when testosterone levels drop faster than this rate. There are a number of factors that can lead to low testosterone including:
Obesity, diabetes, and insulin resistance are the main causes of low testosterone today. The level of total and free testosterone is reduced in obese men in proportion to the level of obesity. Making matters worse is that estrogen is increased.
Chronic inflammation is another risk factor for low testosterone. Insulin resistance is the key factor in causing silent inflammation and high levels of high-sensitivity C-reactive protein (hsCRP).
Increased exposure to "xenoestrogens" – compounds in food and the environment that exert estrogenic effects including pesticides; phthalates (plastics); tobacco smoke byproducts; heavy metals (lead, mercury, etc.), and various solvents. Xenoestrogens enhance the effects of estrogen in men leading to lower production of testosterone.
Lack of physical activity. On the flip side, one of the quickest ways to boost testosterone production is regular bouts of short intense exercise, especially weightlifting.
Stress has a negative effect on testosterone levels by increasing the release of the adrenal hormone cortisol.
Boosting Testosterone
The best approach to boosting testosterone levels in men with low T is addressing underlying issues by improving the action of insulin, achieving ideal body weight, and improving blood sugar control. Weight loss alone has been shown to increase testosterone levels by 50%. Beyond these basic measures there are a number of natural products that may be helpful:
Aging and Lifestyle
There are a lot of options in natural medicine for men to improve their declining testosterone, libido, and sexual performance. However, realistic expectations are required along with some common sense. If a man is overweight, does not exercise, and causes significant stress on his system because of other dietary and lifestyle factors, none of these natural products are likely to produce the real magic that he is looking for.