Day and Nighttime Skincare Featuring Azelique Products
DISCLAIMER
This blog has not been approved by your local health department and is not intended to provide diagnosis, treatment, or medical advice. Read More

This blog has not been approved by your local health department and is not intended to provide diagnosis, treatment, or medical advice. The content provided on this blog is for informational purposes only. Please consult with a physician or other healthcare professional regarding any medical or health-related diagnosis or treatment options. Information on this blog should not be considered as a substitute for advice from a healthcare professional. The claims made about specific products throughout this blog are not approved to diagnose, treat, cure, or prevent disease.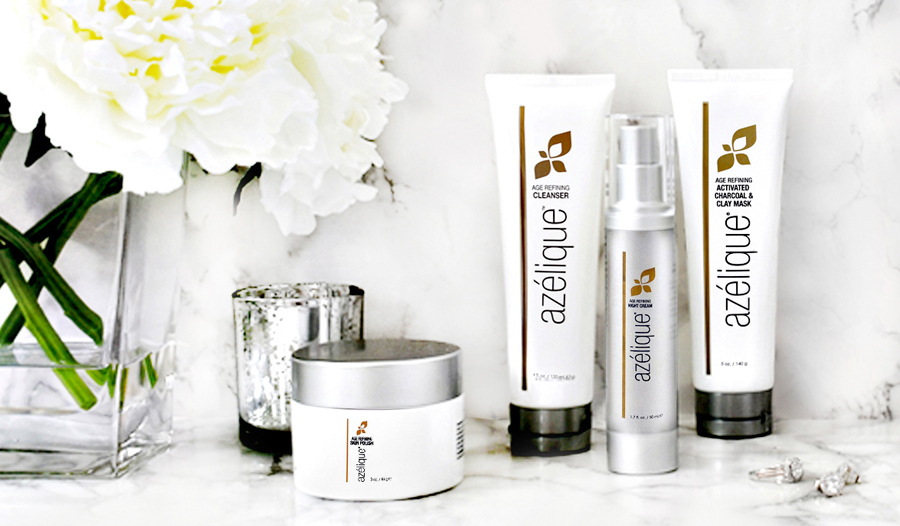 Healthy skin upkeep requires a daily routine with several important steps. Proper morning and nighttime skincare routines should be treated differently based on the needs of the skin. Different serums, oils and cleansers may be used depending on skin type. Use this guide to understand skincare better using Azelique products.
What's the Difference Between Morning Skincare and Nighttime Skincare?
Morning Skincare Routine: The Day's Protection
The easiest way to see the need for a good morning routine is to understand that applying cleansing oil, toner, serum and anti-sun products is a process that's meant to protect the skin throughout the day. This can include protecting the skin from UV radiation, chemicals in the atmosphere, makeup and even the bacteria that cause acne.
All of these contaminants are present during an average day, so it's important to cleanse and nourish the skin each morning so that it can better manage the day.
Azelique: The Morning Skincare Regimen
The adage says that the best defense is a strong offense, and a good morning skincare routine will certainly require a strong offensive approach to ensure the best daily results. Each of the products used for skincare in the morning are designed to actively fight one daily environmental factor that is inevitable, which is why it's important to use the products together.
1. Cleanser
Throughout the night, oils form on the skin and bad bacteria can accumulate. In the morning it is important to refresh the skin and prep it to best absorb products like serums and UV-protecting lotions.
For this reason, a gentle cleansing product like the Azelique Age-Refining Cleanser can help clear the pores of buildup and products that may be left over after a good night's sleep. This cleanser may also help exfoliate the skin so that the upper dermal layers are ready for the day without stripping the skin of its natural oils.
Azelique's Age-Refining Cleanser shines because it's soap-free, which means that it won't leave behind a waxy film on the skin. Additionally, the combination of nutraceuticals and botanical extracts will help minimize the appearance of skin damage.
2. Serum
When it comes to daily protection try the Azelique Serumdipity Anti-Aging CoQ10 Plus, Facial Serum. Recommended application: once during the morning to protect against UV damage and to reduce the appearance of wrinkles and once at night where a product with hyaluronic acid can help lock in moisture so that the skin doesn't dry out overnight.
A serum is a highly protective product, and using one with CoQ10 will help renew the skin by protecting it from factors that may be encountered throughout the day. While a product like this can work well in both the morning and nighttime, its quick-absorbing properties make it very easy to apply before applying moisturizer and sun protection lotions.
3. Moisturizer
To keep the skin looking young and supple, there's simply no substitute for an active hydration regimen. The ideal time to apply moisturizer is after the skin has been cleansed and the serum has been given time to set. A good moisture barrier is a great way to prevent UV light from prematurely aging the skin, and it even can protect the skin from flakiness and acne as well.
Try an antioxidant-rich moisturizer like the Azelique Age-Refining Day Lotion with Azelaic Acid as antioxidants help protect the skin from the unstable molecules that produce free radicals. Free radicals speed up skin aging and may cause cell-level damage.
This particular product also has anti-inflammatory properties, which can help prevent breakouts in sensitive skin. In addition, the product features nutraceuticals and botanicals that can help repair existing skin damage.
Nighttime Skincare Routine: Managing the Day's Buildup
During an average day, the skin undergoes quite a bit of exposure to toxins. Between UV radiation and various chemical or bacterial contaminants, skin can become very oily and distressed by the end of the day. As a result, the ideal skincare solution for the night should include a routine that is focused on deeper levels of cleansing and skin nourishment.
Part of a nighttime skincare routine should involve cleansing and removing excess makeup, oil, SPF-protecting chemicals and any chemicals from external pollutants from the skin. Following this, the remaining part of the routine should introduce steps to help heal and nourish the skin for the next day, which may incorporate anti-aging serums, moisturizers and eye creams.
Azelique: The Nighttime Skincare Regimen
Azelique's nighttime skincare products were designed to minimize and remove the damaging effects that the day has on the skin. Similar to the daytime regimen, a proper nighttime routine relies on the usage of cleansers and serums, but these products differ from those used in the morning.
1. Cleanser
At the end of the day, it's a good practice to remove makeup, oils, environmental contaminants and bacteria from the skin. Start with the Azelique Age-Refining Cleanser. As this product is pH balanced and suitable for all skin types it is an ideal starting point to prep the skin by leaving it clean, soft and balanced.
2. Exfoliator
Exfoliation is very important for the skin at night because getting rid of dead skin cells can help smooth out the complexion and foster new cell growth. Azelique provides two options that can be used interchangeably to accomplish this.
The Azelique Age-Refining Skin Polish with Azelaic Acid can be used two to three times per week. Its exfoliation is fairly gentle but effective, which is why it's only needed every 48 hours or so. In addition to removing dead skin and components from the day, it adds hydration and helps reduce wrinkles.
The Azelique Activated Charcoal Facial Clay Mask exfoliates the skin but also has humectant properties that will help bring water to the skin. In addition, activated charcoal helps bring loose dirt and oil to the skin's surface so that removing the mask after 15 minutes will also remove accumulated facial pollutants from the day.
3. Serum
Based on a recent study, hyaluronic acid has been observed to elicit dramatic improvements in the appearance of age markers on the skin. Azelique's Serumdipity Anti-Aging Hyaluronic Acid Facial Serum supports the skin's ability to retain its natural moisture and can help reduce the appearance of fine lines.
A wide array of products on the market utilize chemicals like alcohol that actively dry out the skin, so having a product with hyaluronic acid will help counteract the damage that those products can do.
4. Protection
At night, there isn't an immediate need to protect the skin from environmental factors, but that doesn't mean that protection against aging isn't needed. A good night cream, like the Azelique Age Refining Night Cream, with Azelaic Acid, is essential and protection for the very sensitive and fragile skin around the eyes is crucial. Try Azelique's Refining Eye Treatment with Azelaic Acid.
The skin around the eyes is known for being the first area on the face to show wrinkles and oxidative damage, which is why being proactive with a hydrating moisturizer is imperative. This particular product uses hyaluronic acids to lock in moisture, and it uses Argireline and matrixyl to help reduce the appearance of wrinkles and fine lines not just in the eye area but the forehead as well.
Benefits of a Morning and Nighttime Skincare Routine
Having a skincare routine for the morning and night is important for keeping skin healthy and young. Cleansing the skin's surface of toxins makes for a good foundation for serums and moisturizers, and using Azelique products is a great option for these critical skincare steps.