Health Benefits of Coconut Oil: Discover the Amazing Advantages and Uses
DISCLAIMER
This blog does not intend to provide diagnosis... Read More

This blog does not intend to provide diagnosis, treatment, or medical advice. Read more. The content provided on this blog is for informational purposes only. Please consult with a physician or other healthcare professional regarding any medical or health-related diagnosis or treatment options. Information on this blog should not be considered as a substitute for advice from a healthcare professional. The claims made about specific products throughout this blog are not approved to diagnose, treat, cure, or prevent disease.
In this article: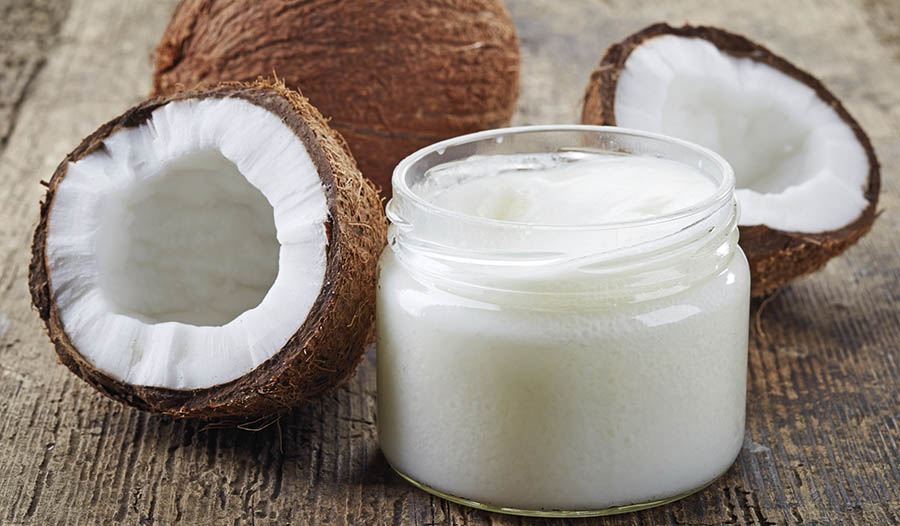 Originally Posted May 2017 / Updated July 2023
One of the hottest products in health food stores today is organic coconut oil. Once maligned because it is largely composed of saturated fat, what consumers have come to understand is that the saturated fats from coconut oil are different than the ones found in animal products. Specifically, they are shorter and utilized by the body in beneficial ways.
Coconut oil contains what are referred to as short- and medium-chain triglycerides while the saturated fats in animal products are long-chain triglycerides. Being shorter in length, short- and medium-chain triglycerides are handled by the body differently and are preferentially sent to the liver to be burned as energy.
The benefits of coconut oil are many, but let's focus on just three key areas: supporting weight management, supporting brain health, and promoting oral health.
Supports Weight Management
Coconut oil may help support weight management. Being shorter in length, short- and medium-chain triglycerides are handled by the body differently and are preferentially sent to the liver to be burned as energy. One analogy is that they act like kindling to help stoke the fire of metabolism. The reason is that these fats may help support weight management by increasing the body's metabolic rate and burning of fat.1
In one human clinical trial, the fat-burning (thermogenic) effect of a high-calorie diet containing 40 percent fat as medium-chain fatty acids was compared to one containing 40 percent fat as long-chain fatty acids.2 The thermogenic effect of the medium-chain fat diet was almost twice that of the long-chain fat diet—120 calories versus 66 calories—leading the researchers to conclude that the excess energy provided by medium-chain fats was not stored as fat but burned. In a follow-up study, medium-chain fats given over six days increased thermogenesis by 50%.3
Supports Brain Health
The mechanism suggested for the benefit of coconut oil on brain health is that coconut oil's MCTs can also increase energy production within brain cells, thereby increasing overall brain power.1 In particular, eating a coconut oil-enriched Mediterranean diet may help to improve brain function.9
Antimicrobial Actions Support Oral Health
Coconut oil is used in "oil pulling," an age-old practice in Ayurvedic medicine to promote oral and systemic health.10 Oil pulling involves taking approximately one teaspoon to one tablespoon of coconut oil and holding it in the mouth, and swishing it through the teeth for anywhere between five and twenty minutes first thing in the morning before brushing the teeth and again at night. After the time it is held and swished around in the mouth, the oil is spat out, and the teeth can be brushed.
The benefits of coconut oil pulling may be the result of coconut oil's antimicrobial properties against bacteria.1,10 Several randomized, controlled clinical trials have shown oil pulling with coconut oil promotes oral health. These benefits may be partially the result of its antimicrobial action. In one trial, researchers compared the effect of coconut oil pulling with chlorhexidine, a popular antimicrobial mouthwash, in reducing the level of Streptococcus mutans, the oral bacteria linked to cavities. In this study, coconut oil was equal to chlorhexidine in reducing the S. mutans count in the saliva.12
Coconut oil pulling is also safe and without side effect.10
Most people feel the difference in how smooth and clean their teeth feel the first time they perform oil pulling with coconut oil.
What to Look for When Buying Coconut Oil
Organic, unrefined, virgin coconut oil is the preferred form for many reasons. For example, virgin coconut oil contains phenolic compounds that contribute to its antioxidant activity. Laboratory results show it has a greater antioxidant power than more refined varieties, including purified MCTs.
California Gold Nutrition Organic Virgin Coconut Oil is an example of high-quality coconut oil. This non-GMO product contains no hexane or pesticides, and it's certified organic by Quality Assurance International and USDA organic. It is also iTested for contaminants.
California Gold Nutrition Organic Virgin Coconut Oil is cold-pressed and unrefined. So, it has a light coconut scent and flavor, making it a perfect addition to any diet but also for topical uses.
Using Coconut Oil
There are simple ways to use coconut oil. It makes a delicious spread or dip, and it can also replace butter in any baking recipe on a 1:1 basis. Coconut oil can be used for sautéing, pan-frying, and stir-frying, but it has a lower smoke point than olive, avocado, macadamia nut, and canola oil. The "smoke point" is the temperature at which, when heated, an oil will begin to smoke. Unrefined coconut oil smokes in the range of 350° F, while extra virgin olive oil and avocado oil are generally well above 400° F. The bottom line with using coconut oil in cooking is avoiding high heat.
Coconut oil can also be used topically as a moisturizer.
Below are some other ways coconut oil can be used.
Coconut Oil and Boosting Energy
Combine 1 tablespoon of coconut oil with ½ tablespoon of chia seeds and spread on a slice of whole-grain bread for an energy boost. Another great way to get some extra energy is by blending a spoonful of coconut oil and a natural sweetener like honey, allulose, xylitol, or stevia into a cup of coffee. The oil's quick-burning fats can double as an energy booster alongside the caffeine. Plus, it's a rich, creamy alternative to dairy creamers. In fact, there are many premade coconut oil or MCT-based creamers on iHerb.
Healthy Coconut Chocolate Recipe
Those with a bit of a sweet tooth will love chocolate coconut fondue, which melts together 1 tablespoon of coconut oil and 2 cups of melted dark chocolate and results in a mixture that's perfect for coating fresh fruits.
Coconut Oil for Baking
In addition to using coconut oil to replace butter, vegetable oil, or shortening when baking, it can also be used to grease pans and baking sheets.
Homemade Coconut Mayo
For a more unconventional use of coconut oil, blend it into a homemade mayonnaise spread. Combine four egg yolks, 1 tablespoon apple cider vinegar, and ½ teaspoon dried mustard in a blender. Slowly add 1 cup melted coconut oil and ½ cup olive oil while still blending. Once the mixture is smooth, serve and enjoy!

References: