Bake Healthier Desserts With These 7 Easy Ingredient Swaps
DISCLAIMER
This blog does not intend to provide diagnosis... Read More

This blog does not intend to provide diagnosis, treatment, or medical advice. Read more. The content provided on this blog is for informational purposes only. Please consult with a physician or other healthcare professional regarding any medical or health-related diagnosis or treatment options. Information on this blog should not be considered as a substitute for advice from a healthcare professional. The claims made about specific products throughout this blog are not approved to diagnose, treat, cure, or prevent disease.
In this article: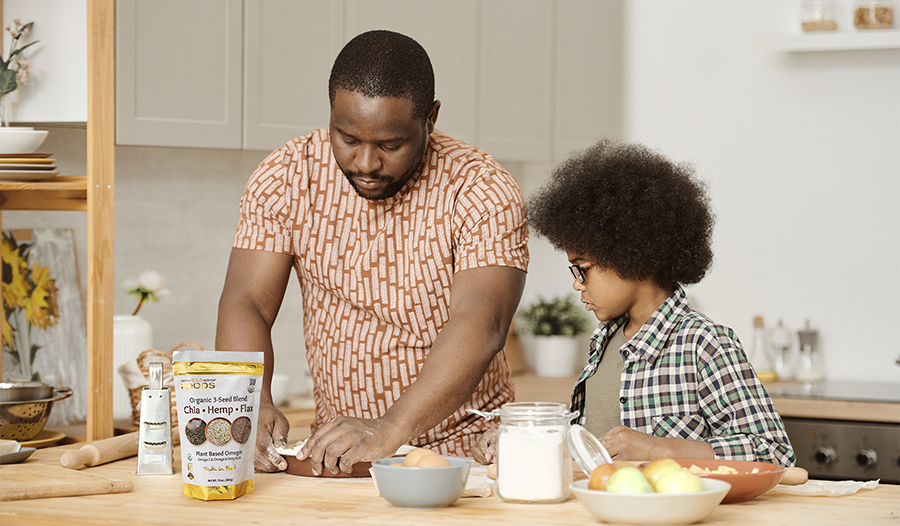 Baking is a favorite pastime for many people. It can be comforting, provide a nice activity to enjoy with your loved ones or it may be your way to show your family and friends you care about them. While these are all positive outcomes associated with baking, eating these indulgent treats isn't often the best for our health. The good news is there are plenty of ways to transform your baked goods into healthier versions that are still delicious. Whether you are baking for your own enjoyment, making goodies for your kiddo's school class, or preparing your famous holiday treats, here are my top tricks for making healthier desserts and pastries by substituting in some good-for-you ingredients.
1. Buckwheat Flour
Most baked goods call for all-purpose or pastry flour, neither of which provides much nutrient density. Luckily, there are many swaps you can use in place of these traditional baking flours. My top swap for all-purpose flour is buckwheat flour, and for good reason. Despite its name, buckwheat is free from gluten, a protein naturally found in wheat, barley, and rye that many people have sensitivities to. For those with a gluten allergy or intolerance, buckwheat is a great option. In addition to being gluten-free, buckwheat flour possesses more nutrients than traditional baking flour. Fiber is the nutrient you will find much more concentrated in buckwheat, making it a healthier swap. Fiber is an important nutrient for improving digestive regularity, creating a feeling of fullness, and can even help manage blood cholesterol levels. In concentrated amounts, buckwheat can provide a somewhat chalky consistency, so you may start by swapping only half of your all-purpose flour for buckwheat flour to ensure a texture you enjoy. Additionally, you can combine buckwheat with other healthful flours like almond flour for a desirable texture and boost of nutrients, like healthy fats.
2. Blended Fruit
Mashed and blended fruits, like applesauce, are a wonderful alternative to oil in baked goods. While there are many oils that contain healthy fats, like olive oil and avocado oil, these aren't usually ideal for baking due to their more noticeable flavors. Traditionally, vegetable and canola oils are the most common options used in baking because of their neutral flavors; however, they don't provide as many positive health attributes compared to other oils. To avoid this predicament of which oil to use in your baked goods, you can swap all oil for applesauce, or other blended fruits. Look for options with zero grams of added sugar, but feel free to experiment with mixed fruit options. There are many varieties of blended fruits available out there, so choose the one that will best compliment the flavors in your baked goods. No matter the flavor, you can use blended fruit as an equal swap for oil. For example, if a recipe calls for 1/4 cup of oil, swap that for 1/4 cup of blended fruit.
3. Ground Flaxseed
Incorporating ground flaxseed into your desserts and pastries adds a variety of health benefits. Flax is a wonderful source of fiber and essential fats, like omega-3, and also has a subtle nutty flavor that can complement your baked goods.
Similar to the fiber benefits I mentioned associated with buckwheat, the fiber in ground flaxseed provides the same positive attributes. Additionally, flax is a source of soluble fiber, the type that is most helpful in managing blood cholesterol levels. In addition to the fiber benefits found in flaxseed, this seed also contains omega-3 fats that provide several health benefits, including reducing inflammation, aiding in heart and neurological health, and may also aid in lowering triglyceride levels, and improving depressive symptoms. Adding a modest amount of flax to your baked goods likely won't change the texture or flavor much, so feel free to add it in without altering the recipe.
One of the other ways you can enjoy ground flaxseed in your baked goods is by using it as a swap for eggs. Sounds crazy, right? But, making a "flax egg" is a great way to reduce cholesterol in your baked goods. Simply combine one tablespoon of ground flax with 2.5 tablespoons of water, stir and let stand for 5 minutes until it thickens. This recipe can be used in place of one egg in your recipe.
4. 100% Real Chocolate
Chocolate may not be a food that comes to mind when you think of healthy options. While many types and brands of chocolate are loaded with sugar, making them less desirable options, there is, in fact, good quality chocolate available. When choosing chocolate as a treat on its own or incorporated into a baked good, it is important to look at the sugar content and percentage of cocoa used to make chocolate. Oftentimes you will see the percentage of cocoa listed on the front of a label. If you see this, choose an option that is at least 60% cocoa. The higher the percentage, typically the less sugar that has been used and the more antioxidants that will be present in the chocolate. Look for chocolate with 5g of sugar or less per serving.
5. Baking Cups
When making your favorite muffins or cupcakes, the baking cups you use definitely matter. Many of the options out there are colorful with unique designs, and while this may be attractive and add a fun element to your treats, those colorful patterns and designs are typically created using food dyes and colorings that may be concerning for your health. Additionally, traditional paper baking cups are bleached and treated with chlorine-containing solutions that could potentially leach into your baked goods. Luckily, there are better quality options available, like unbleached, chlorine-free baking cups that are also compostable certified, making it a good choice for the environment and your health. You could even use better-for-you baking cups to serve small snack portions to your little one or under a popsicle to catch drips.
6. Honey
Most desserts and pastries call for some sort of sweetener, usually in the form of sugar. While you can absolutely consume sugar as part of a healthful, well-rounded diet, it is best to limit added sugar as much as possible as it has been indicated as negatively impacting health. A great alternative to sugar in a recipe is honey. When using honey in place of refined sugar, you maintain the sweetness you are looking for in your recipe, but from a much better source. Honey has a lower glycemic index, meaning it has less of an impact on blood sugar than the refined sugar you may typically bake with. Additionally, honey contains some antioxidants, a positive health attribute not found in sugar. You can use honey in a one-to-one ratio when replacing sugar, but one of the other benefits of using honey may be that it is sweeter than sugar, so you may be able to get away with using less, which can reduce the total amount of calories in your treats.
7. Creamed Coconut
In recipes that call for half and half, you can use creamed coconut as an alternative. This may be especially helpful for those who have a sensitivity to dairy, but may also help improve the nutrient profile of your baked goods. While creamed coconut is more calorie-dense than half and half, the types of nutrients available in coconut are more beneficial for your health. The type of fat found in coconut is absorbed and metabolized differently than the fat found in dairy products, and, because of this, is thought to be a more healthful fat source. Coconut is also a source of antioxidants and fiber, whereas half and half contains minimal amounts of these nutrients. You can enjoy creamed coconut in place of half and half in a one-to-one ratio. One more perk of using creamed coconut is the added flavor profile you will notice when swapping dairy for coconut.
Takeaway
There are so many ways to use common ingredients and products to bake healthier desserts and pastries. Yes, it takes a different way of thinking, and not all swaps will work in all recipes, so there may be some trial and error, but your efforts will be rewarded with added health benefits. Take some time to experiment with these different swaps to find the ones that best compliment your favorite baked good recipes!