7 Natural Foods to Beat the Winter Blues this Season
DISCLAIMER
This blog does not intend to provide diagnosis... Read More

This blog does not intend to provide diagnosis, treatment, or medical advice. Read more. The content provided on this blog is for informational purposes only. Please consult with a physician or other healthcare professional regarding any medical or health-related diagnosis or treatment options. Information on this blog should not be considered as a substitute for advice from a healthcare professional. The claims made about specific products throughout this blog are not approved to diagnose, treat, cure, or prevent disease.
In this article: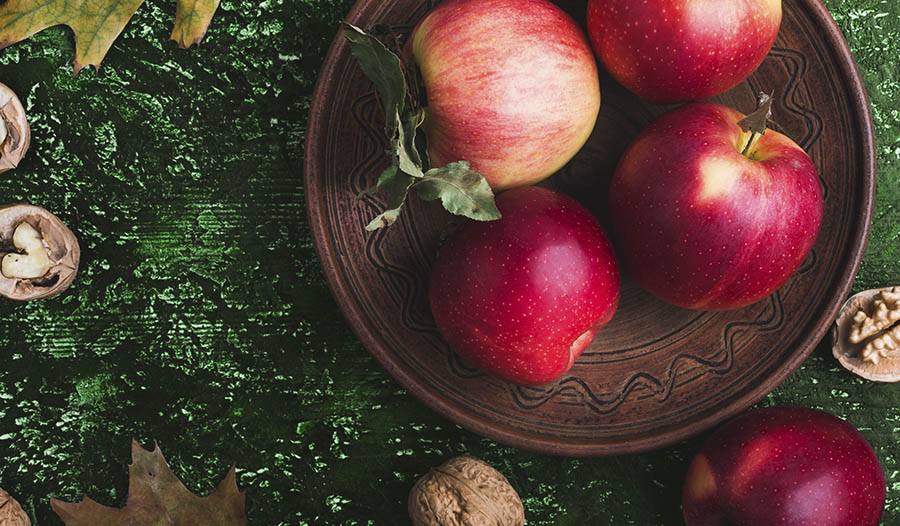 Winter can be a dreary time of year when many people feel depressed and unmotivated. Fortunately, certain foods can help a person feel more alert and energized so that their days can be more productive.
The Winter Blues
This is a form of depression that often affects individuals during the winter months. The Winter Blues, or seasonal affective disorder, or SAD, it is most likely caused by the shortening of the days and the fact that there is less daylight is available. Some of the ways to beat this ailment are to get more sunlight, be more active and eat healthy, natural foods. Many scientists believe that seasonal affective disorder is caused because of a hormonal reaction to the lack of daylight during winter. Less light means less melatonin production, which is the hormone that regulates sleep and wakefulness.
Natural Foods to Try
There are many natural options that can serve as an energy boost in winter.
Apples
Apples are a great fruit to eat on a regular basis during the colder seasons of the year. Apples are very high in fiber; in fact, eating four apples a day can provide the recommended amount of fiber that an individual should have each day. Fiber will help keep sluggishness at bay because it helps provide the energy that a body needs throughout the day.
Walnuts
Walnuts are a great food to help get rid of the winter blues because they are loaded with protein, which is proven to improve alertness in individuals, and a walnut also contains omega-3 fatty acids, which are great for improving brain functionality and awareness. Walnuts can easily be put in a dessert to add crunch to a sweet treat, but their nutrients work best when they are enjoyed without a lot of sugar accompanying the nuts.
Dark Chocolate
Dark chocolate tastes good, but it can also be a healthy snack that is beneficial to ingest as well. It can help lift depression, stress and fatigue because it contains phenylethylamine, which is the same endorphin that is felt when love is in the air. It is a feel-good food! Feeling extra tired? Chocolate covered oranges are a great immune-boosting treat.
Shiitake Mushrooms
This is a type of wild mushroom that provides vitamin D, which is typically lacking in the winter season, as well as many other minerals that can be mood-boosting. The selenium that can be found in this type of mushroom can help reduce anxiety and depression. Shiitake mushrooms can be added to hearty soups or a delightful stir-fry.
Rosemary
Rosemary is an herb that is well known for increasing awareness. Since the winter blues can cause depression, adding rosemary to food can help provide a boost in energy as well as health. This herb can be used on savory, lean meat, but it also will make a great addition to lemonade. This drink provides vitamin C so it will double its energy-boosting power.
Bananas
Bananas are a great source of potassium and fiber, which can be great for lifting an individual's mood, and they also contain a good bit of magnesium, which can make it easier to sleep at night. Magnesium works to lower anxiety levels, so having a banana a day may be a great way to beat the winter blues.
Salmon
Salmon is a great dish for people experiencing seasonal affective disorder because it is a good source of omega 3 fatty acid, which is helpful for brain functionality and awareness. It also contains a lot of vitamin D, serotonin and dopamine, which are all useful for mood stabilization.
Dinner Recipe to Beat the Winter Blues
One of the best ways to beat the winter blues is to eat lean meat, and since salmon is so high in omega-3s, it is a great option to eat during the winter. This recipe makes two servings so it may need to be doubled for family meals.
Herb Roasted Wild Salmon
Ingredients:
Instructions:
Preheat the oven to 400 degrees.

Cut the lemon in half and set one half of it aside.

Squeeze the other half of the lemon into a small bowl.

Add the oil, thyme, rosemary and oregano to the bowl.

Clean the salmon and place it on a baking sheet, skin-side down.

Season the fish with salt and pepper to taste.

Gently brush the lemon mixture over the fish.

Place the fish in the preheated oven and roast it for 12 minutes.

With the half of the lemon that got put aside, cut several thin slices.

When the salmon is done, garnish it with lemon slices and enjoy with a spinach salad and roasted rosemary potatoes.
Dessert Recipe to Beat the Winter Blues
Nothing is better than a chocolate dessert to help beat the winter blues, but this next recipe is one that incorporates both apples and chocolate into a crumb bar that may lift the spirits of anyone who eats this delightful treat.
Chocolate Caramel Apple Crumb Bars
Ingredients:
Instructions:
Preheat the oven to 375 degrees.

Peel and dice the apples, and then place them in a large bowl.

Add the brown sugar, cornstarch, lemon juice and cinnamon to the bowl.

Toss the apples in the cinnamon mixture.

Allow the mixture to sit for five minutes to release the juices in the apples.

Meanwhile, in a small skillet, melt the butter.

Add the apples to the skillet along with all of the juices that were created.

Cook the apple mixture for 10 minutes or until they are soft.

Allow the mixture to cool.

Next, start preparing the crust by combining the flour, sugar, baking powder and salt in a stand mixer or another bowl.

Add the chilled butter slowly until it is all incorporated and the dough is broken down into a lot of small crumbs.

Add the egg to the dough, and mix it until the dough becomes large crumbs that can be formed into a ball.

Split the dough into two portions; one will be 1/3 of the dough while the other will be 2/3 of the dough.

Press the larger portion into the bottom of a 9-by-13-inch baking dish.

Layer the apples over the crust.

Break up the remaining dough and sprinkle it on top of the apples.

Bake the crumb bars for 30 to 35 minutes.

Once the crust is golden brown, remove the baking dish from the oven.

Top with the chocolate chips and the bits of caramel.

Bake the dish for about five minutes longer to melt the chocolate and the caramel.

Remove the bars from the oven.

Sprinkle the bars with sea salt.

Allow the bars to cool.

Cut the bars and serve them.
Natural Foods to Defeat the Winter Blues
Winter is a hard season to make it through especially with seasonal affective disorder. However, there are natural ways to curb this type of depression. Getting enough sunlight, being active and eating foods with energy boosting qualities. The seven foods discussed can be eaten as a snack by themselves, which is an easy solution for people who are feeling low-energy.